Maria Gabankova
work on the themes
of the Book of Revelation
Art Detour -Studio Exhibition
Friday, November 14, 4 pm -9 pm
Saturday, November 15, 11 am - 6 pm
Sunday, November 16, 11 am - 5 pm
1400 Dupont St. (at Lansdowne) 2nd Floor, Studio 232
Tel.: 416/535-8063
e-mail: gabankova@paintinggallery.net and www.paintinggallery.net
New work on the themes of the Book of Revelation
Plagues, wars, famines, earthquakes, floods, fires, murders - does all that sound like much of our daily news?
Yet , these same catastrophic events are also described in many Biblical texts, including of the Book of Revelation or the Apocalypse.
My paintings in this exhibition are the beginning of a series on the themes of the Book of Revelation. More specifically I have focused on some of the Angels - Messengers - who appear throughout John's vision. The layers of events in this book are complex referring to the present and to the future. The figures in my paintings do not represent literal angels of the text but are inspired at times by several angels, symbols or acts at once; such as the sounding trumpets, the plagues bowls, destroying fire, the chain binding Satan. The Ode the Joy stands apart in it's focus on the message of hope, which underlines the text of Revelation. It represents a heavenly banquet in the new Jerusalem.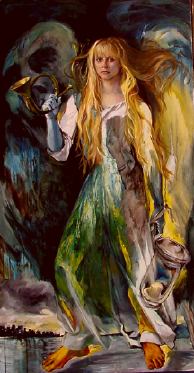 Detail --------- Bigger Detail
The fourth angel sounded his trumpet, and a third of the sun was struck, a third of the moon, and third of the stars, so that a third of them turned dark. (Rev. 8:12)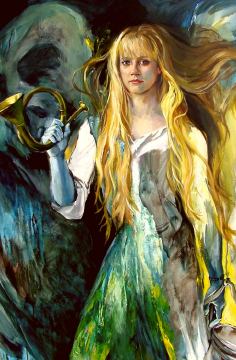 Detail --------- Bigger Detail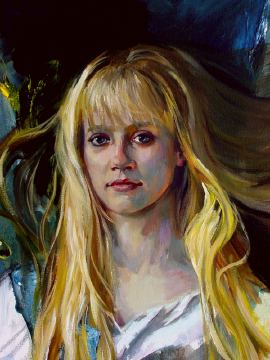 Detail --------- Bigger Detail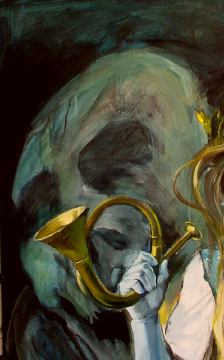 Detail --------- Bigger Detail
During those days men will seak death, but will not find it. (Rev. 9:6)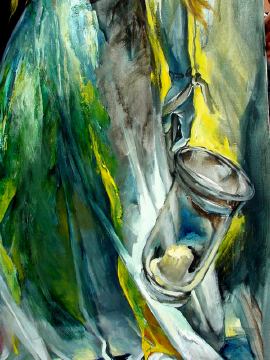 Detail --------- Bigger Detail
And a great star, blazing like a torch, fell from the sky... (Rev. 8:10)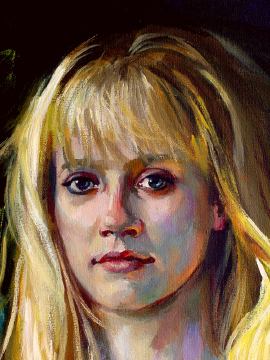 Detail --------- Bigger Detail
The first angel sounded: and hail and fire followed, mingled with blood, and they were thrown to the earth. (Rev. 8:7)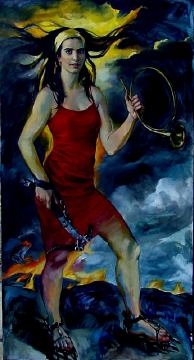 Detail --------- Bigger Detail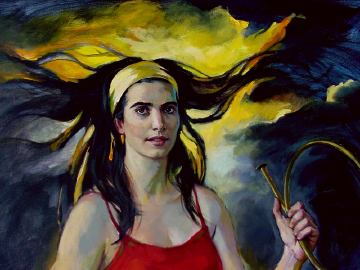 Detail --------- Bigger Detail
And I saw three unclean spirits like frogs coming out of the mouth of the dragon, out of the mouth of the beast, and out of the mouth of the false prophet. (Rev. 16:13)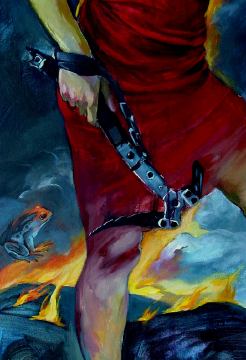 Detail --------- Bigger Detail
Then the third angel sounded: and a great star fell from heaven, burning like a torch, and it fell on third of the rivers and on the springs of water and the name of the star is Wormwood. (Rev. 8:10)

Detail --------- Bigger Detail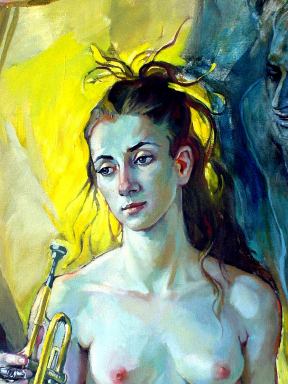 Detail --------- Bigger Detail
So the first went and poured out his bowl upon the earth and a foul and loathsome sore came upon the men who had the mark of the beast and those who worshiped his immage. (Rev. 16:2)
Then I saw an angel coming down from heaven, having the key to the bottomless pit and a great chain in his hand. He laid hold of the dragon, that serpent of old, who is the Devil and Satan, and bound him for a thousand years. (Rev. 20:1,2)

Detail --------- Bigger Detail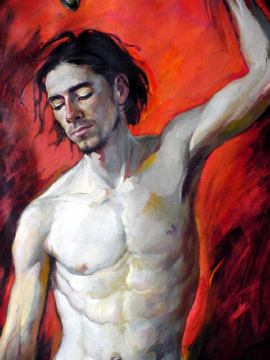 Detail --------- Bigger Detail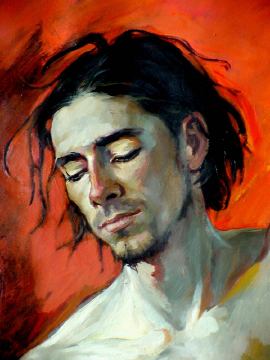 Detail --------- Bigger Detail
Then one of the four living creatures gave to the seven angels seven golden bowls full of the wrath of God who lives forever and ever. (Rev. 15:7)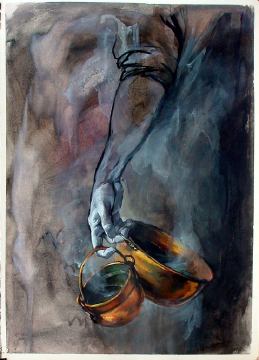 Detail --------- Bigger Detail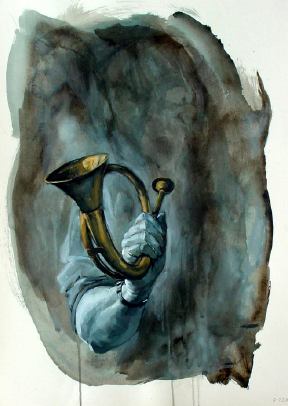 Detail --------- Bigger Detail